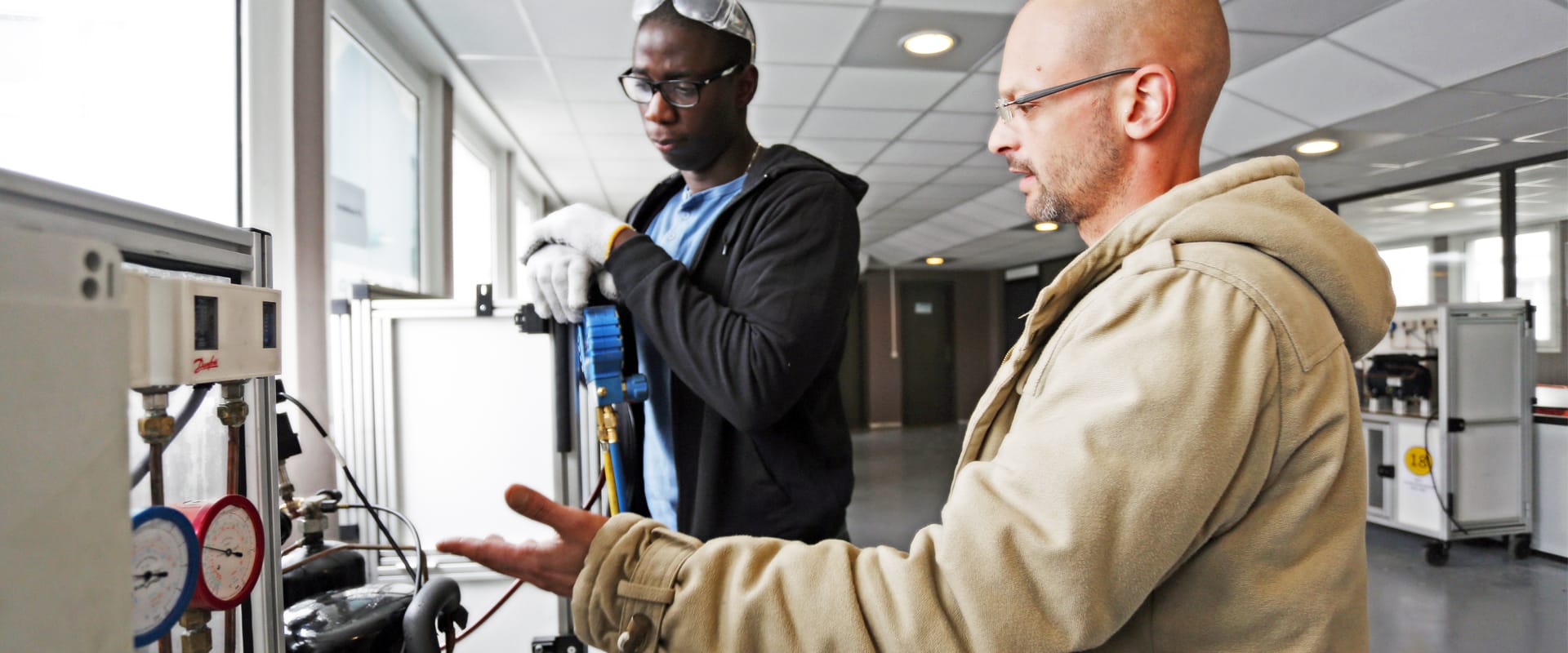 IFFEN
Our training courses
- Parking for 100 vehicles
- 14 training rooms
- 12 technical platforms
- Conference room seating 400
IFFEN is 4,200 m2 divided into

CO2 Power Station
Being at the heart of refrigerant in a
regulation context, IFFEN is equipped
with a second CO2 power station,
a transcritical booster system.
Enter quickly into training
More than 360 trainings available
Are you an individual ?
Train yourself for a job and/or Improve your knowledge and skills in a specific area.
Are you a business ?
Train you collaborating employees with our regulatory training and aptitude certificate.
French Training Institute in Energy
IFFEN offers training in the fields of climatic engineering, refrigeration engineering and renewable energy.
Air-conditioning

Environment

Renewable energy
Electricity

Thermal engineering

Cold
Starting from the deposit of file, IFFEN takes care of all processes of the administrative procedures
Continue
The training courses offered by the French Training Institute in Energy are first and foremost
Continue
More than 800 sessions
unique courses
expert trainers
inter & intra business
IFFEN, valued trainings at all levels
For Businesses
For every need, whatever the size of your business
A few words from our trainees
A very good center, unforgettable experiences. Wide choice of training; professional and creative trainers. Thank you! I highly recommend.
Isabelle
Health & safety Manager
my best professional experience. Competent trainers, high-end equipment, no complaints. Great experience. Thanks to the whole team. Solar Panels Installer.
I filed my own application for registration on iffen.fr for a training in electricity, I consulted the catalog, it went very well. I recommend!

They talk about us

Etre rappelé gratuitement
Un conseiller vous rappelle immédiatement et gratuitement.
IFFEN PARIS
152 rue de Paris
94190 Villeneuve-Saint-Georges
IFFEN GUYANE
13 lotissement St Michel
97351 Matoury
IFFEN Maroc
13 Rue Brahim Moussili Belvédère
20300 Casablanca